With the theme "Together We Win" - Connect for success, the Gala Dinner to celebrate MHG's 5th birthday brought great and complete emotions.
Gala Dinner – Together We Win mừng sinh nhật MHG lần thứ 5
On August 15, 2022, at Drum Dong Palace 2 Wedding and Convention Center - Hancorp Plaza Building - 72 Tran Dang Ninh, Cau Giay, Hanoi, Gala Dinner Together We Win took place. marks the 5-year journey of establishment and development of MHG.
My Hanh Group Joint Stock Company (MHG) was formed and developed with 5 main areas of activity: Researching and growing Ngoc Linh Ginseng and medicinal herbs; Producing and distributing products from Ngoc Linh Ginseng; Providing telecommunications products and services; Investment and development of eco-resort real estate; Ginseng Herbal Spa.
With the core value of Top Brand - Top Quality - First Choice, in each field of activity, MHG is always dedicated and strives to bring customers the most perfect products and services, contributing to part of improving the quality of life, bringing prosperity and happiness.
In the field of production and distribution of products from Ngoc Linh Ginseng, MHG carries with it the mission of preserving the precious value of this precious medicinal species, and at the same time bringing Ngoc Linh Ginseng closer to Vietnamese people and around the world. world.
Attending the party, many partners, customers and all employees of the Group sent to President Pham My Hanh fresh flower baskets, meaningful gifts and best wishes on this day. this special.
Fresh flower baskets from partners, customers and all employees
Speaking at the party, Ms. Pham My Hanh - Chairman of the Board of Directors and General Director of MHG expressed her sincere thanks to the delegates for having fun with the meaningful event of the company. Entering a new stage, with determination and bravery and constant efforts, MHG will grow stronger, more sustainable and prosperous.
Ms. Pham My Hanh - Chairman of the Board of Directors and General Director of MHG had emotional sharing about the past journey
At the program, representatives of MHG employees and representatives of guests also shared their deep feelings and best wishes for Chairman Pham My Hanh and MHG on the occasion of this special event.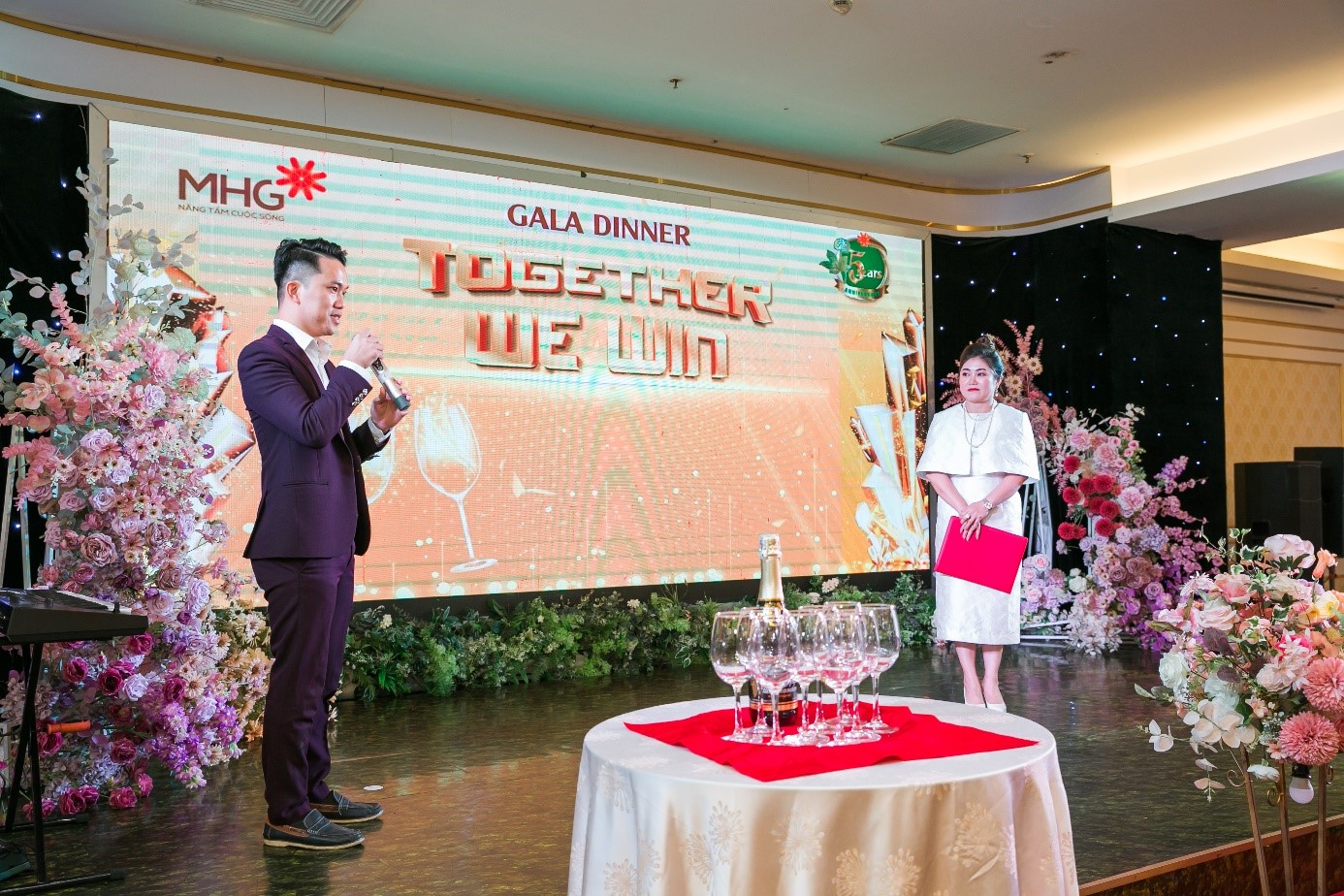 Mr. Nguyen Kim Son - Deputy Sales Manager of MHG telecommunications - Representatives of MHG employees share their feelings
Mr. Lee Sang Shin - President of Korea Viko Energy Company - Guest representative delivered a congratulatory speech to MHG
In the atmosphere filled with emotions, solemn but warm and intimate, everyone raised a glass: "Happy Birthday MHG" with radiant happiness.
Beautiful and memorable moments at Gala Dinner
Dear Partners, Customers and all employees are delighted to attend MHG's 5th Anniversary Celebration
The party was stirred by dramatic games and many attractive gifts, creating opportunities for closeness, communication and bonding among MHG members.
Towards the 5th anniversary of its establishment, MHG has joyfully launched the MHG THE VOICE 2022 contest with the theme song "Sam Ngoc Linh" composed by musician Do Ai Tu. After more than 1 month of implementation, the Organizing Committee has selected the excellent contests to be honored at the program.
The title song "Sam Ngoc Linh" helps spread the mission and message that MHG wants to convey
Especially, with proper practice and elaborate performance investment, the competition team Nguyen Hoi - Project Investment and Development Board excellently won the MHG The Voice 2022 Champion.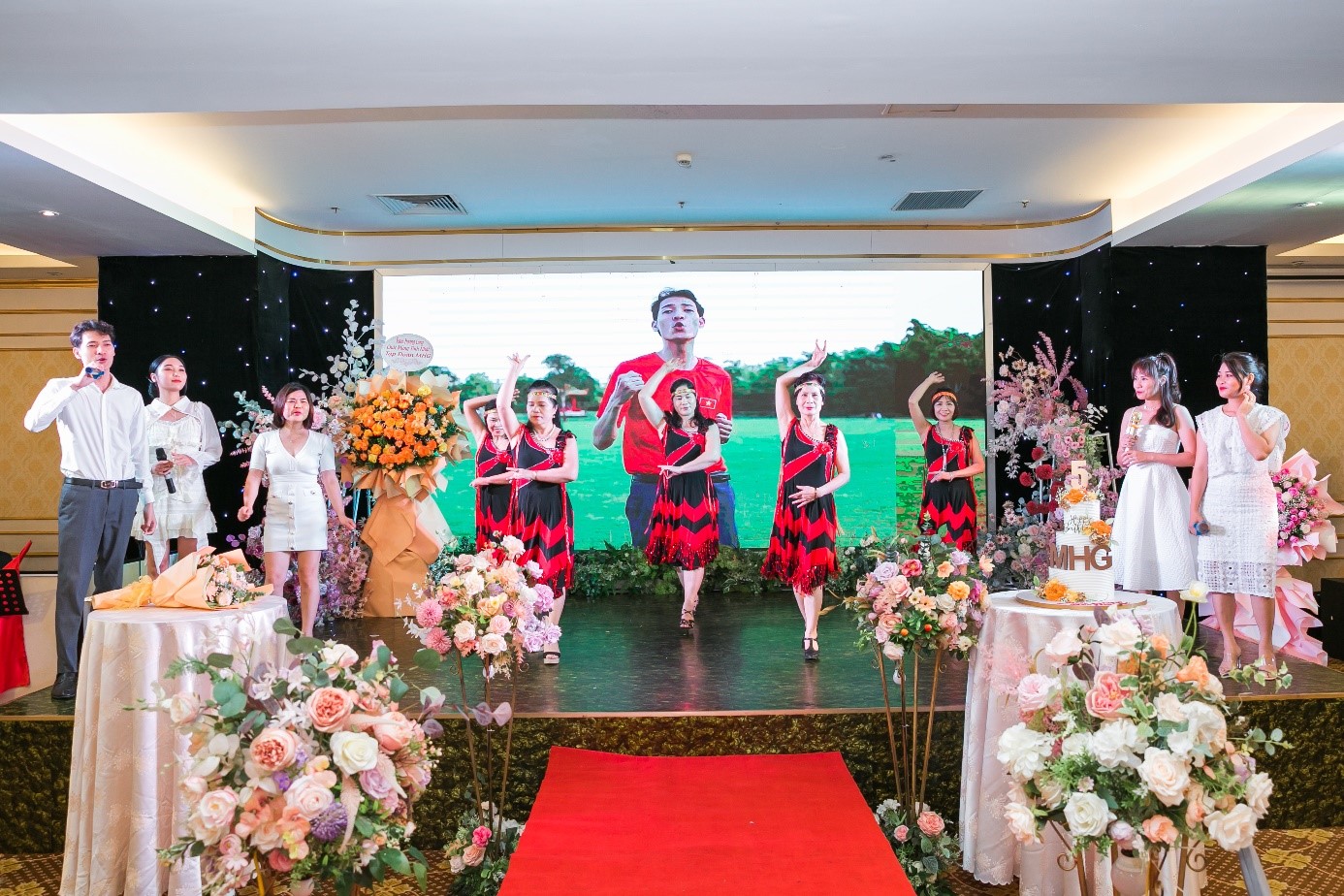 The performance of the Champion of MHG The Voice 2022 left a deep impression on the audience
After the colorful art performances to celebrate the birthday, all employees sang and shared their happy feelings on this special occasion. Bright faces, handshakes, and sincere hugs have once again shown the solidarity of MHG family members for each other, and especially the affection for Chairman Pham. My Hanh- a talented and beautiful captain steered the MHG boat firmly to overcome difficulties and achieve the successes like today.
Looking back at the 5-year journey together, the MHG collective will make more efforts, unite more, confidently hold hands together "Reach out to the great sea" to receive success and victory.